Renogy 100W Solar Panel for Off-grid Living
Article
Alt Energy Tutorials
17/06/2010
24/07/2021

Alternative Energy Tutorials
Renogy 100W Solar Panel Review
Renogy 100W Solar Panel
The Renogy 100W Solar Panel is an excellent panel for people looking for a cheap and simple way to enter the world of solar power. This 12 volt, 100 watt monocrystalline solar panel is water resistant and sealed against the elements making it ideal for use on a roof or in the garden generating free solar power for powering the home or as part of an "off-grid" solar system not connected directly to the utility grid.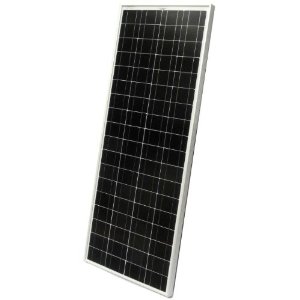 100W Renogy Solar Panel Rating
1. Cost per Watt:
2. Quality of Construction:
3. Weight of Panel:
4. Rated Lifetime:
5. Value for Money:
Overall Rating Score: 22/25
What makes Renogy's 100W high power, but compact solar panel perfect for home use is that it is made using 72 long-lasting, high-efficiency, 125mm x 125mm monocrystalline photovoltaic cells arranged into a 18×2 + 18×2 configuration designed to give a continuous free solar power over a minimum 25 year period.
One Application of this 100W Panel
Also, this 100W Solar Panel comes complete with 5m of high-current solar cable and fully waterproof junction box allowing you to connect it with other solar panels to create larger roof mounted solar arrays.
This monocrystalline panel is one of Renogy's Solar's range of top-quality solar panels currently available which guarantees over 90% of full power after 10 years of continuous use, and over 80% of full power after 20 years of continuous use with some of the highest solar panel efficiencies in the marketplace, all at affordable prices.
Solar Panel Characteristics:
72 (18×2 + 18×2) Monocrystalline Solar Cells

Peak Power (Wp): 100W ± 5%

Voltage at maximum power (Vmp): 18.6V

Current at maximum power (Imp): 5.38A

Open circuit voltage (Voc): 22.3V

Short circuit current (Isc): 5.86A

Power allowance range: ± 5%

Dimensions: 42.4 x 20.0 x 1.38 inches

Weight: 14.3 pounds
This voltage optimised 100W solar photovoltaic panel is ideal for use in powering ON or OFF grid solar power systems and for directly charging 12V batteries. It's rigid anodised aluminium frame and toughened 3.2mm tempered glass prevents damage due to frost, snow and high winds giving it a design life of over 25 years of consistent free power.
The panel is fitted with a bypass diode making it perfect for placing in series with other panels to create higher voltage arrays. However, as standard it does not have a blocking diode fitted and so should not be left connected to a battery overnight as it will allow charge to escape from your battery.
The panel can be connected directly to a solar charge controller which has built-in protection functions maximising a batteries capacity and life while providing more than enough power for powering a fridge, television or laptop, perfect for caravans, boats and off-grid houses.
The Renogy 100W Solar Panel Main Features
Let's take a look at some of this 100 Watt solar panels features:
The Panels Good Points:
Top of the range 100 Watt Solar Panel with excellent performance even in low-light conditions.
Made from 72 (125×125) high performance, high efficiency monocrystalline solar cells.
3.2mm tempered glass and rigid anodised aluminium alloy frame for exceptional strength.
Voltage optimised for use in 12V systems and charging 12V batteries.
Weatherproof and durable, perfect for permanent outdoor use on a house roof or in solar gardens.
Complete with 5 metres of flexible cable and MC4 connectors.
The Panels Bad Points:
Large size and weight for roof mounting.
High cost per watt compared to others.
Requires additional mounting holes and/or brackets.
This high quality waterproof 100 watt monocrystalline photovoltaic panel is ideal for people who want to save money on their electricity bills and the environment, or where it would cost too much to install electrical cables to a shed or outhouse. Renogy's 100 watt panel is powerful and compact making it portable enough to be used to power hundreds of devices that you may use in a shed, boat or caravan such as lights and pumps and will even generate free renewable solar power on a cloudy day.
Due to its rigid anodised aluminium alloy frame and 3.2mm thick tempered glass giving it exceptional strength, it is perfect for permanent outdoor use on roof or in the garden to provide free solar power. This low-iron tempered anti-reflecting glass has a Back Surface Field (BSF) silicon nitride anti-reflective cell coating helping to increase the solar conversion efficiency of the panel and reduce overheating by the suns rays.
Connecting These 100W Panels Together
For off-grid charging of batteries as in a caravan, camper van, boat or remote house type applications, why not connect the 100W Solar Panel together with other Renogy 100W panels to form larger arrays for a higher voltage or greater battery charging current. The following table gives you an idea of what is possible with this versatile 100W panel.
Panel Type: Renogy 100 Watt Solar Panel
Panel Rating: 100 Watts (5.38A at 18.6V)
Panel Dimensions: 42.4 x 20.0 x 1.38 inches
Panel Qty
System Power
12V System
24V System
Array Area
2
200 Watts
0S-2P
2S-0P
11.78 ft2
3
300 Watts
0S-3P
none
17.67 ft2
4
400 Watts
0S-4P
2S-2P
23.56 ft2
5
500 Watts
0S-4P
none
29.45 ft2
6
600 Watts
0S-6P
2S-3P
35.33 ft2
8
800 Watts
0S-8P
2S-4P
47.11 ft2
10
1.0 kW
0S-10P
2S-5P
58.88 ft2
12
1.2 kW
0S-12P
2S-6P
70.66 ft2
Where: 0S-2P means no (zero) panels connected together as a Series string, but 2 panels connected together in a Parallel branch. Likewise, 2S-6P means 2 panels connected together in a Series string, with 6 strings connected in a Parallel branches.
Note that this 100 watt photovoltaic solar panel can be connected together in either a series, parallel or a combination of both to give a higher output voltage or charging current from the array than a single panel.
For example, four solar panels connected in series would give maximum operating voltage 74.4 volts (4 x 18.6) at 5.38 amps ( Vmp x Imp = 74.4 x 5.38 = 400W ). Likewise, 4-off 100W solar panels connected together in parallel would give 18.6 volts at 21.52 amps ( Vmp x Imp = 18.6 x 21.52 = 400W ).
Renogy's Rover 60 Amp unit is a powerful multi voltage 12V/24V/36V/48V MPPT common positive charge controller which uses PWM (Pulse Width Modulation) technology to extend the life of connected batteries and is compatible with Lithium Sealed Gel, Flooded Batteries.
This 60 Aampere Charge Controller can work with sealed, gel and flooded batteries and allows you to set the batteries capacity. It also has built-in automatic cut-off to prevent over-charging and deep discharge, over heating, over load protection, as well as short circuit and reverse polarity protection.
Renogy's Rover 60 Ampere controller's other features include LCD display of parameters, LED indicators, temperature sensor, back-up battery, multilevel menu operation and friendly interface with 4 multifunctional buttons.
The Renogy and CE logos assures the quality of the panel, so for more information, customer reviews about this 100W monocrystaline photovoltaic solar panel, Click Here to visit Amazon, you won't find it cheaper anywhere else. Free shipping is also included with Amazon Prime.